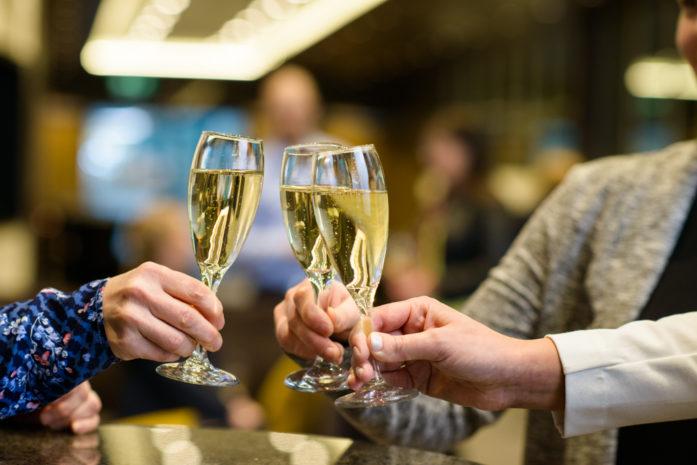 Chef de cuisine Petra Wickman with her staff warmly welcomes you to the fabulously renewed restaurant Talentti.
BUFFET MENUS 2018
(min. groups of 30 persons)
Menu 1
Rich flavors of Middle east 29 € / person
(39 € /person with maincourse)
Salad, pomegranate and nuts
Wineleaf rolls
Roasted vegetables with Ras-el-hanout mayonnaise
Moroccoan vegetable patties with mint yoghurt
Chicken couscous with dried fruits
Spring rolls stuffed with beef meat
Pita bread and hummus
*
Roasted lamb with herb potatoes (+10 € / person)
*
Banoffee with coffee or tea
Menu 2 
Finnish appetizers 29 € / person
Smoked whitefish mousse with flat bread from Lapland
Slightly salted salmon with liquorice and beet root mayonnaise
Smoked reindeer paste with mini croustades
Country-style patee with carrot jam and sweet bread
Forest mushroom quiche with spruce sprout aioli
Mini burgers with overcooked beef and red onion jam
Finnish cheese with cloudberry jam
Karelian pies with butter
*
Blueberries with rye and coffee or tea
Menu 3 
Classic 29 € / person
(39 € / hlö with maincourse)
Green salad with passion fruit vinaigrette
Caesar salad
Burrata with organic tomatoes
Potato and caper salad
Smoked salmon with pickled vegetables
Feta and spinach quiche
House bread with herb fresh cheese
*
Overcooked pork neck with seasonal vegetables (+10 € / person)
*
Muscovado pannacotta with coffee or tea
Menu 4 
Asia 29 € / person
(39 € / person with main course)
Vegetable spring rolls
Asian cabbage salad "sweet and sour "
Roasted vegetables with sesame seeds
Flavor roasted salmon with lemongrass mayonnaise
Crayfish on skewer with seaweed and vermicelli salad
Satay marinated chicken skewers with tomato and coriander salsa
*
Miso glazed  duck breast (+10 € / person)
*
Coconut pannacotta with star anice marinated fruits and coffee or tea
Prices are included with the rental of the event room and staff.
Make your table reservation: myynti@ami.fi or 020-7461 352 – You are warmly welcome to Talentti!
In Taitotalo your event will succeed. We have a long experience of organizing all kind of events and our professional and creative kitchen staff is happy to make you delicious servings to all kind of events from breakfast seminars to fancy dinners and from small exhibitions to company's day out. We will  plan and organize your events based on your wishes and needs. On private occasions we are also open due to your wishes. There is a video projector, whiteboard and PA system in restaurant Talentti. Taitotalo also organizes cooking schools for the company's days out and other parties.
Do not to hesitate to contact us. Let's make an unforgettable event together: myynti@ami.fi tai 020-7461 352